Our Services
Serving Branch County, Branch County
Why take chances with the law when you can have an experienced family law attorney who knows the intricacies of the law? The Law Office of Rhonda B Ives in Coldwater, MI will handle your divorce, child custody case, and other family law matters with your best interests in mind. Coldwater and surrounding area residents can reach us at 517-278-1800 or 517-617-4800 for more information about our legal services:

* Family Law
* Criminal Law
* Civil Law

About Us
Attorney Coldwater MI
The Law Office of Rhonda B Ives is a family law attorney who offers a wealth of experience, along with passion and dedication to achieve results! As a family law attorney, we are committed to giving you the best representation possible so you can get on with your life. Our goal is to provide quality legal services, sound advice, and practical legal help at reasonable prices.

We know this is an emotional time for you, which is why you need a family law attorney who understands and has your best interests in mind. When it comes to court trials, you want your family law attorney to get you through with aggressive representation. We'll fight for child custody, equitable divorce, child visitation, alimony, and more!

When the unexpected happens, you want a family law attorney who is prepared to take on your case with confidence and get you the results you need. You need a trusted advisor to guide you through the legal process. With a hands-on approach to your personal case, your family law attorney will take the time to listen to you and your concerns to better prepare for trial.

If you are looking for a family law attorney with a proven track record, the Law Office of Rhonda B Ives in Coldwater, MI is better prepared to take your case to the highest level. No matter how complex your circumstances, we are the advocate you need standing by your side. Call us today at 517-278-1800 or 517-617-4800 to schedule a consultation.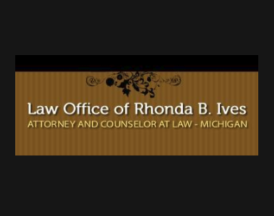 Attorney Coldwater MI
---
Payment Methods
Master Card, VISA, Check, Cash